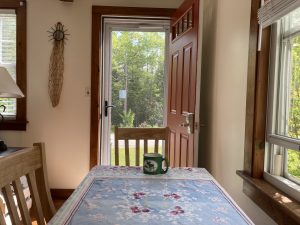 Started 2021
on a cross-country road trip to Maine on a quest to spend time in Maine getting to know more towns and areas, with a goal of buying a property that I could rent out and where I might also eventually live.
Ended 2021 with a property that isn't in the location I expected but is even better. It came up suddenly, and you know how they say "luck is when preparation meets opportunity."
Well, I wasn't even there when this property opportunity fell into my lap.
Luckily, I was prepared in more ways than one — and clearly having driven nearly 7,500 miles in search of property, I was super motivated to find that perfect vacation rental that could double as an East Coast home.
As a little backstory, I've been an Airbnb Superhost for more than 10 years in Oakland, California. So creating a space that guests will love is something that I've honed over the years.
The big difference between California and Maine or other vacation destinations is seasonality.
You need to really plan carefully as to your purpose for buying the vacation rental property and expections on your ROI (return on investment).
FIRST: How to combine preparation and opportunity to create luck
It's connecting the dots and projecting the outcomes beyond the immediate opportunity. In this case, I had 1 DAY to:
plan and decide quickly
know my own investment priorities
evaluate the opportunity
have cash on hand (that was making a ridiculously low interest rate)
say YES
Why only one day? Wasn't that just a seller pressure tactic?
Maybe, but they had lined up a real estate agent who would have listed the house on the MLS / Zillow. It would have been quickly snapped up. And their price would have built in the 5-6% real estate agent fees.
My Airbnb returned 10% on my investment in its first rental season!
We closed the deal on the new Maine house. Then once there was enough furniture in place, we shot photos and posted the listing.
Why the rush? Maine is a Vacationland with a tourist season that runs about June – mid-October (leaf peeping season)!
It was worth pulling the house together enough to get a few photos and description online while we added the finishing touches, like most of the furniture.
Vacasa management vs. doing it ourselves?
We had some conversations with Vacasa about having this popular vacation rental management company do it all — providing basics like sheets and soap, managing cleaning, basically letting us be hands off.
However, we decided that while Vacasa allows vacation rental property owners to block the calendar so you can visit, we wanted more control over the guest experience. At least at first.
If you're interested in potentially having Vacasa manage a rental for you, get in touch and I will conntect you.
FIRST STEP: Research short-term rental profit potential in the markets where you are looking to buy
Asking me to connect you to a local agent is your short cut to listings and data.
In the meantime, if you consider yourself a data hound, check out these vacation rental market reports from various tech platforms that help property owners rent their places out:
Review Beyond's Short-Term Rental Industry Trends Report
(For years I have used Beyond Pricing to optimize and set seasonal pricing and minimum lengths of stay. Especially if you have more than one short-term rental booking platform, check out Beyond Pricing….that's a referral link, but I'm truly a believer and happy to do a Loom video to show you how I use it!)
Check out the most popular Airbnb destinations. This list is published on a 1031 Exchange website — which is genius.Are you looking to buy or 1031 exchange for vacation rental property?I can help you search and buy in California and can connect you with savvy agents in any state across the U.S.
Get in touch to chat about vacation rental strategies and where to buy!