Your Local Berkeley and Rockridge
CONCIERGE REAL ESTATE AGENT
What's in your real estate world? My mission is to help bring your home and real estate goals to life in the San Francisco East Bay area and beyond. Your dream life and wealth goals are in reach.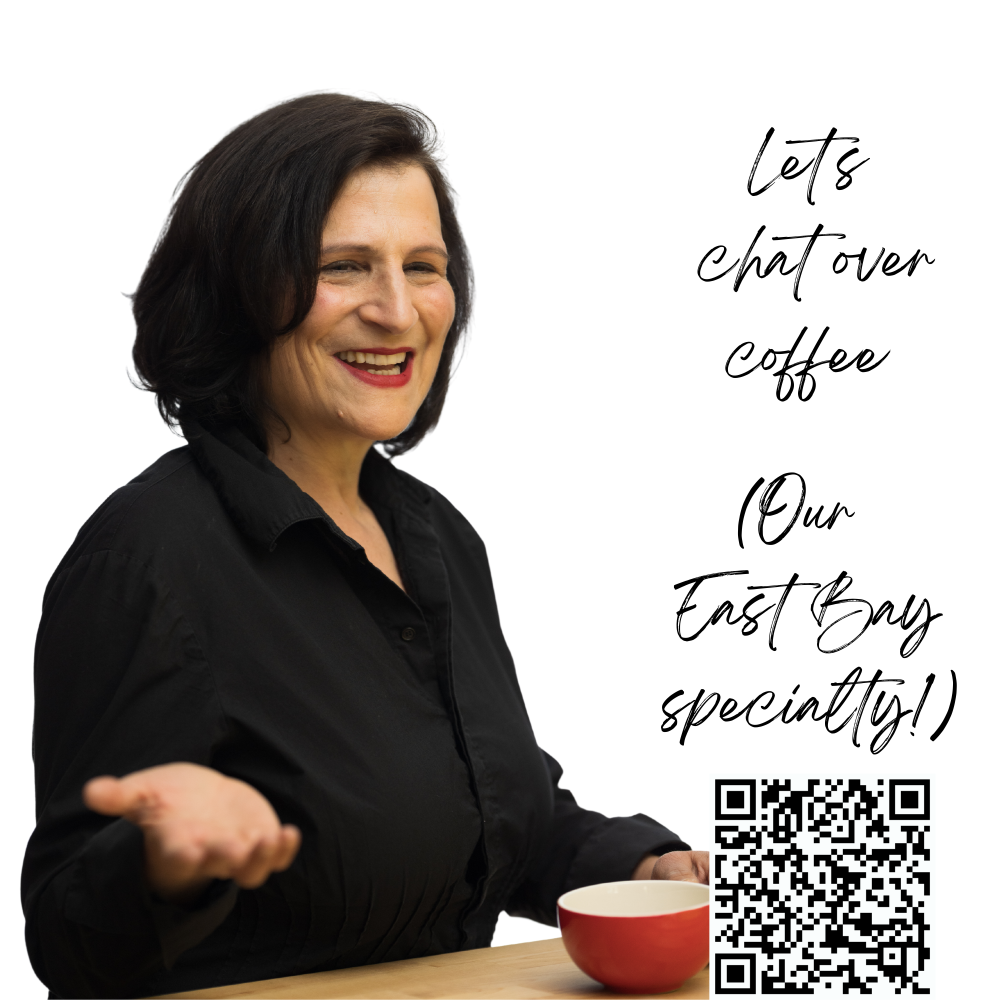 Need a Real Real Estate Agent?
Meet Susie Wyshak...
Keller Williams named Susie Wyshak "Rookie of the Year," recognizing her total dedication to East Bay home buyer and seller success.
CORE VALUES: Service, connection, client happiness.
Susie is your partner in achieving your optimal real estate outcomes and your big-picture goals — whether buying or selling. Count on Susie to work doggedly, with joy and humor, tapping into a vast network of connections, and communicating in a timely, honest way. Clients remark on Susie's expertise and insights as a longtime local, native Californian, UC Berkeley grad, MBA, Rockridge home owner and investor, Silicon Valley escapee and consultant to local food businesses. If Susie can't help you, she will find someone who can—whether locally or across the globe. Susie has a designation as a Senior Residential Specialist (SRES®) and personally tackled the challenges of downsizing inherited stuff and relocating.
Personalized Services
Your goals are my priority, and I specialize in getting you the best result. To me, you're more than a client - you're a partner, and we're in this together!

Find a Home
I'm here to guide you through every twist and turn of the buying process, so that you can sleep easy at night (in a home that you love ♥).

Sell a Home
I'm here to guide you through every twist and turn in the selling process, to make sure you get top-dollar without any of the headache.
"Where do I get started, first me and my husband highly recommend working with Susie. She is insightful, energetic, creative, a listener, adaptable, openminded, and a great real estate partner. We have worked with her in purchasing and selling and she
…
is always willing to talk and help us strategize. She embraces new ideas and technology and really wants to help you achieve your goals in purchasing and selling. She goes above and beyond and we are so grateful to have worked with Susie!"
"Susie is super responsive and will at a moments notice work behind the scenes you access to a property. Highly recommend! Susie was able to figure out exactly what the seller was hoping for in order to get a deal done. We were able to get the home
…
for below market which is critical as we hope to renovate and use as an investment property/flip."
"Susie is the best!! She was thorough and professional and great to work with. She kept us apprised about available appointments and always let us know as soon as a new one came on the market. She was honest and forthright- no games. In addition to th
…
is she was always available to answer our questions, is absolutely wonderful to work with. It's like having a friend on the "inside" that is working for you. She really care about her clients. Made buying a house such a breeze!! We are new to home buying, Susie is a combinational of professional and personal! She never made me feel uncomfortable and helped me every step of the way! I would 100 % recommend Susie to anyone looking to do any Real Estate transaction."
"Susie was a pleasure to work with. We always felt that she had our best interests at heart and was more focused on making sure we were comfortable and happy with our home purchase than she was about just making a sale. We often drew upon her knowle
…
dge, and she was always quick to answer our questions no matter how obscure they may have been. If she didn't know the answer to our question outright, she was quick to research and get us the information, so we felt she was available to us at any time. She was very understanding and accommodating of our busy work and travel schedules and was happy to meet us at odd hours to view prospective houses. We couldn't have asked for a more professional and helpful realtor to have worked with and would highly recommend Susie to anyone."
"Working with Susie has been an absolute delight! She is incredibly passionate, dedicated, and genuinely invested in helping you find your perfect home. She takes the time to really listen & get to know her clients, she guides and supports you throu
…
gh the process without being pushy or overbearing, and her response time is superhuman! Anytime I emailed or texted, Susie got back to me within 10 minutes! My husband and I began working with Susie in August, and we finally found and closed on our new home in November. Susie hung in there with us every step of the way. She even came over with a thoughtful housewarming gift and celebrated with us the day we got the keys. Just the other day, we received a lovely holiday card wishing us a "cozy joyful first winter in our new home." We are truly grateful to have had Susie in our corner throughout this journey. She's an absolute pro, and I would recommend her to anyone I know."
"Susie shared so much insight on the areas we were looking at and we were moving from Arizona and she was super helpful! She also gave us amazing advice and showed us homes video video which was great!!"
"(Negotiation Skills Rating N/A because I had not been ready to make any offers on homes. We were in the looking stage only). Susie is such a kind and friendly and knowledgeable agent! She showed up with organized papers, emailed me helpful informatio
…
n about mortgage rates and estimate calculators, and her suggested list of other homes to check out were spot-on to my taste. She's very organized and has great follow through, which is so great given how time-sensitive responses are in the SF Bay Area market. Her communication is clear and detailed. She's also a great teacher if you're new to home buying and all the steps involved. She explained things patiently and in detail and made sure all my questions were answered. She also finds such beautiful homes!!!"
"Susie is super responsive and knowledgeable, and it was due to her due diligence that got me my first home in such a competitive market. We looked at many homes but I made one offer only and it was a done deal. Thank you, Susie!"
Popular East Bay Neighborhoods
Use local guides to explore market trends, new listings, schools, and top businesses within the areas that interest you. Susie loves to offer buyers personalized guidance! What's the perfect area for your lifestyle goals?
Real Estate and Real Living
Get insights and tips about Bay Area real estate, financial freedom through rental income, local East Bay living tips (especially about food!). And even ideas for retiring abroad.