What's the most important feature when buying a home? The oldest wisdom says "location, location, location."
But what exactly defines the perfect location that checks all the boxes of desirability and long-term appreciate?
It depends!
The book FLIP: How to Find, Fix, and Sell Houses for Profit distills that perfect location into "9 Neighborhood Appeal Factors."
You can see this particular list of 9 neighborhood appeal factors is more appealing to flippers who want to buy cheap and sell high. There are definately many neighborhoods that do not fit into this list of 9…I've made a modified list below.
Neighborhood checklist for finding a house to flip, according to the book FLIP:
An established reputation
Clean and well-kept yards
A low crime rate
Good starter homes (smaller, relatively affordable)
Close to schools
Close to shopping
Close to mass transportation
Close to business centers
Close to parks and recreation
My clients were shocked with an uninhabitable property in Castro Valley recently sold for more than $750,000.
But comparable fixed up houses were all selling for $1 million or more. Why? #5: Close to schools. Highly rated schools, that is.
It also checked the other boxes. So the cost of fixing up the house had huge potential when it came to resale. For people looking to get into this community, $750,000 plus  the cost of renovation was a bargain compared to other properties.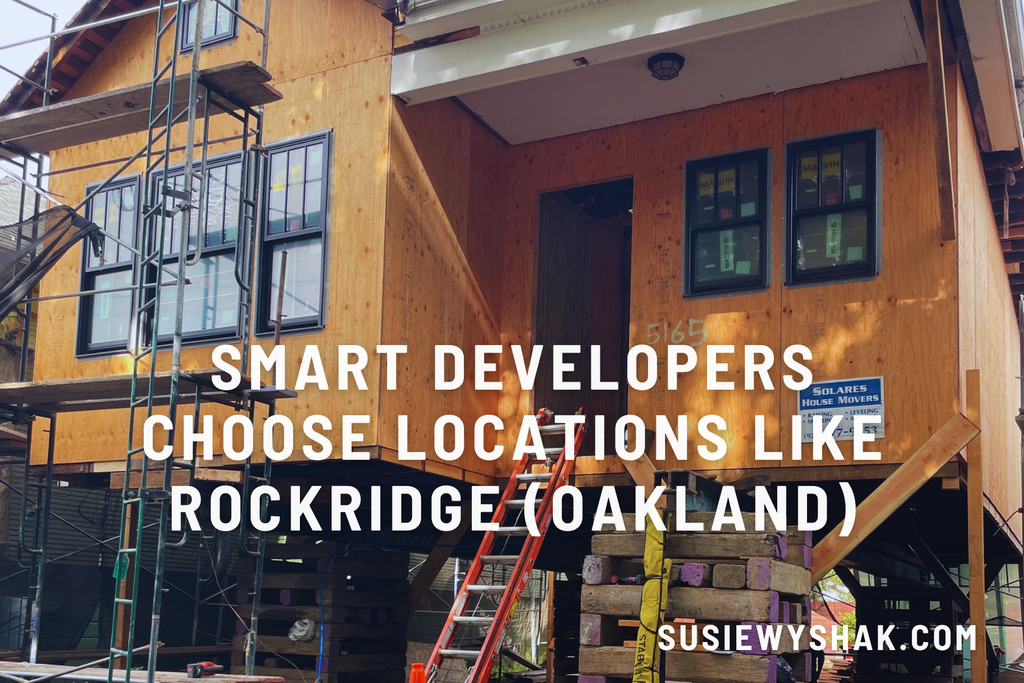 PERFECT LOCATION EXAMPLE: Why the neighborhood of Rockridge in Oakland is the perfect location location location for people who love city life with a small-town feeling near everything:
There's a reason many people come from other cities and even states land in Rockridge, a neighborhood in Oakland that was developed in the early 1900s after the big earthquake. Rockridge is a great example of "location location location" as it checks even more boxes than the flipper list:
High home values that tend to hold value — Even as the market has shifted in 2023 due to high interest rates, Rockridge home prices have been relatively steady. (That being said, nothing compares to the low-interest rate. multiple-bidder frenzy.)In a neighborhood like this, there is a greater chance of appreciation once a fixer has been raised so a new floor can be added or old systems and cosmetic features can be updated. For example recently fixers have sold for $800,000 – $1,100,000 (that >$1 million house being a small bungalow that had a huge fire). Why did it sell for so much? LOCATION LOCATION LOCATION! Ask me for a Rockridge market report on recent home sales and see homes for sale right now in Rockridge and nearby areas.
Awesome weather — the Berkeley / Oakland areas have incredible Mediterranean weather thanks to cooling from the Bay. Rarely if ever does the temperature top 100 here or go below 45 degrees.
Close to freeways, roads to many cities and mass transportation in the form of BART and A/C transit bus lines.
Close to everything — walkable to stores, transportation, religious institutions, libraries, schools, even hospitals (if you like walking far).
Neighborhoody feeling. Do neighbors walk around, talk to each other, and intersect with the local business community? Rockridge has a business improvement districted funded by merchants as well as a printed newsletter and other volunteer groups to help involve the community in policies, news, and decisions as well as connect folks.
Trends in more people buying or selling. Researching what's going on with home sale is critical before investing, whether you are a flipper or looking for a home to live in. These trends are key indicators for quality of life and future appreciation.
As for the low crime rate, it's all relative. That's all I'm saying!
How can a home buyer avoid buying in the wrong location in the Bay Area or anywhere?
Investigate the community: It's so important to see properties in person or to make sure your real estate agent has not only visited in person but has relayed everything to you.For example, one client was about to submit an offer to buy a lot in a very desirable Silicon Valley town. Google Street View revealed why it had not been selling: an electrical substation only feet from the lot. You can't move a lot! And when you see vacant lots for sale for many months, you may often see electrical towers nearby. People fear possible harm to health as well as potential buzzing noise.
Know what's coming up and trends in the area. Are schools closing? Are businesses opening? Are new freeways going in? See what the local news is saying and ask locals how they're feeling about the neighborhood. As a REALTOR®, when doing open houses, I always ask how locals like the area, where they came from, and what it's like living there.One listing for a lovely, spacious house for sale in a state where I was looking at investing described what was happening in the neighborhood and suggsted the house would be perfect for certain uses that did not necessarily indicate the type of neighborhood I was envisioning.
Are you looking to Airbnb part or all of the property? What are the local laws for long term and short term rentals? In recent years, cities and towns have considered restricting when and how long properties can be rented short term. Not all cities have the rules documented. Research what the
What new developments are being built? Will the older housing stock become less desirable when new housing options come in? How will those developments affect traffic, and will they attract new retail which could be a good reason to get in now before the neighborhood is "discovered."
What is the tax base propping up the economy and how well is the city run? We've all heard of recent cyberattacks on cities and governments. How did the city managers handle it, and how are they addressing other issues the area is facing? Yes, you may know what city I'm talking about! I believe especially nowadays it is essential to look at the quality of a city's management and who they are prioritizing when making policies.
These are all things I do and think about for myself and clients when looking at communities.
Susie Wyshak wrote this with NO help from AI. If you're looking for a real estate agent who is a true advisor for your long-term home or real estate investment goals, let's chat!