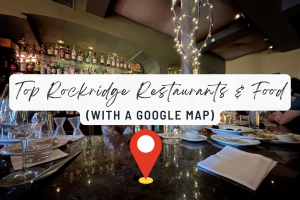 I've lived in Rockridge for more than 10 years where I own — and house hack — a duplex.
So this list of reasons why a Rockridge is so popular comes directly from my experience. Ask anyone who has been to Oakland's Rockridge neighborhood what they think.
You will very likely hear them say "it's my favorite part of the Bay Area" or "I love Rockridge!" (Seriously — do it!)
Why Rockridge is one of Oakland's most popular neighborhoods
Community oriented — there is a Rockridge planning council that helps keep the character of the neighborhood while allowing for growth.
Top restaurants like the cozy and buzzy Wood Tavern along with tons of family-friendly, international and boozy restaurants for every dining desire.
Incredible food shops like Market Hall and Trader Joe's not to mention wine and cider shops…and bakeries…and so on.
Highly rated schools from elementary to Oakland Tech high school.
A mix of new and old architecture, including fabulous craftsman, and Mediterranean houses.
 Great commercial district that has a business improvement district which is so important. Unlike in many neighborhoods around California, where the population is affluent, College Avenue is mostly independent businesses, and boutiques. You will not find international or even American chain stores along the way unless you count Philz coffee, Super Cuts or sees candies as chains. OK yes they are chain stores but who doesn't love them.
It is easy to find parking for shopping and living. (Lots of 2 hour parking on the side streets along College Ave in Rockridge)
The Rockridge BART station sits in the middle of the neighborhood for easy visiting and commuting.
Fantastic coffee shops, which results in lots of activity on the streets of people, socializing and working.
A great public library in the middle of it all — and the Temescal Tool Lending Library nearby! You can use your library card to get tools, and renew them just like books.
 The neighbors are a mixture of longtime multi-generational, families, and new families and people from all walks of life. This makes for awesome block parties, which many neighbors organize annually.
The Rockridge News is a printed monthly newsletter that goes out to all houses keeping people connected and informed.
Plenty community events like the College Avenue Rockridge & Stroll bring people and businesses together, with live bands up and down College.
All these reasons are why at any time there aren't very many Rockridge homes for sale…and working with a local REALTOR® really helps!
Is Rockridge, Oakland safe?
I have lived in Oakland on and off for several decades, specifically in Rockridge for the last 10+ years.
Nothing bad has ever happened to me, my car, or my house!
That being said, I grew up in California and since coming to Berkeley for college, I have had  my "eye out" and followed all of the best practices for safety.
Maybe I'm lucky. Maybe having a dirty car is the trick. But I have found living in a city that has "has" and "have nots" as if you are traveling in a country with that same sort of population is the key to safe living in urban Bay Area cities, including Oakland and Rockridge.
This may sound strange, but it's the truth! Ask me about living in and investing in Oakland and Berkeley.
Moving to Rockridge, Oakland — Latest Rockridge Listings
Rockridge has a mix of rentals in apartments and houses as well as condos, houses and multi-family properties for sale. Ask a local Rockridge real estate agent like me for advice based on your goals.
Sometimes I think about selling my Rockridge duplex to move closer to my family or invest in other areas. Then I remember that I live in Rockridge, and that it is hard to find somewhere that has all of these things that I so love.
Oakland's spectacular Mediterranean weather is not specific to Rockridge. It did not make my list but over time since I went to UC Berkeley, I've got to say the weather and community are what really keeps me in place.
Because of people like me who don't want to leave Rockridge, you will find that there is not a lot of real estate for sale here.
If you are interested in buying a house or multi-family property in Rockridge, let me know and maybe I can work the network to help you find something against all odds.