All along the Oakland, Berkeley, El Cerrito and Richmond hills are homes with incredible San Francisco Bay views…with more houses, condos and townhouses along the waterfront from Richmond to Alameda and San Leandro.
How do waterfront house prices compare to Marin County and San Francisco prices? For the most part, buyers find home prices are are about 50% less…or even less!
You'll find many built mid-century, in the 1950s, especially single-level ranchers in the El Cerrito hills where giant windows often create a living picture of Marin's Mount Tam and the Golden Gate Bridge.
In the Berkeley hills, Upper Rockridge and Oakland hills, near highway 24, architects designed beautiful, seismically sound and fire-smart houses after the big fire in the early 90s — many with stunning Bay views as well. You'll also find grand houses that happily avoided the fire and are intact in their original architectural glory.
In fact, all along the East Bay hills you can find view homes from around $1 million to the many millions. When looking for Bay view homes in the East Bay hills, follow the hills from Richmond (check out the views on this incredible remodeled 5 bedroom house) south all the way to Hayward.
Of course the view is different depending on your location. The best San Francisco views from the East Bay hills are from Richmond, El Cerrito, Berkeley and Montclair.
What is the best place to buy in the flats for an unobstructed San Francisco bay view?
Good news, you have a choice of where to live with great Bay views! Along with Bay view condos in Albany (known for its top-rated schools) Point Richmond and Marina Bay in Richmond often have townhouses and single-family homes. Marina Bay is a very popular gated community for locals downsizing from the hills who still want views and that coastal living vibe.
Boaters can find houses with deepwater docks on Sanderling Island and other nearby harbors at a fraction of the price of houses and marinas in other parts of the bay.
Plus there's a ferry from the Richmont waterfront to San Francisco!
Best places to live on the water for SF and south bay commuting
Alameda and Bay Farm island may be the place for you. There you're on the edge of the water with nothing obstructing the ocean views out to San Francisco.
The only catch is single-family homes are not plentiful. There are duet houses, with 2 attached, and lots of condos and townhouses. Still, single family homes in Alameda do come up and are worth a look if you are craving bay views. (Zoom in on this Alameda home search to find those water view properties!)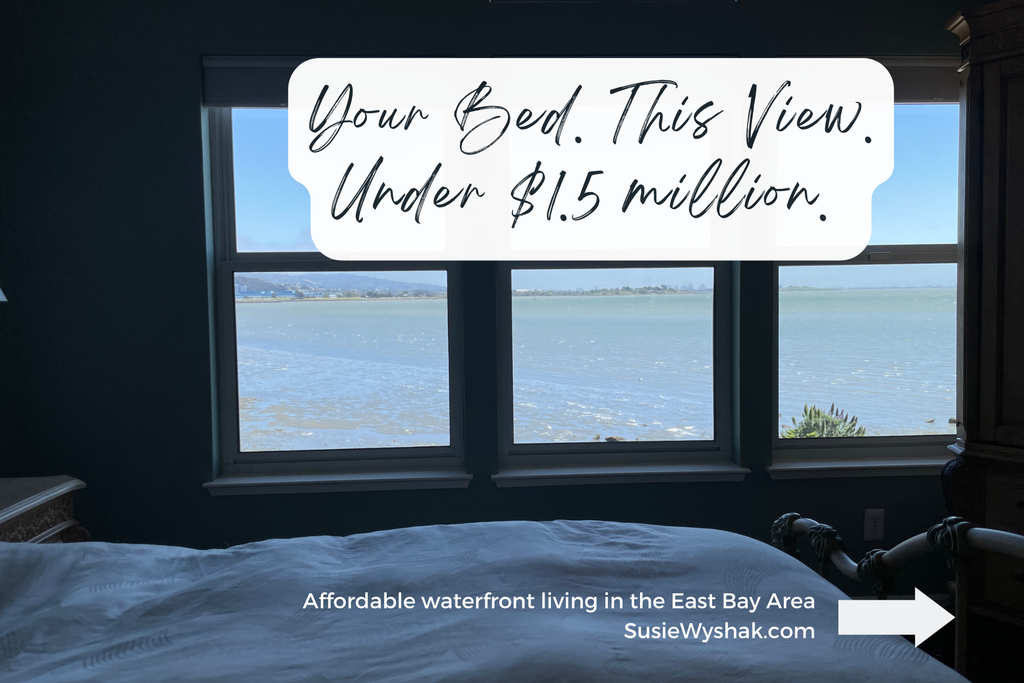 San Francisco bay view homes in the hills for sale
Here are 3 beautiful view East Bay homes on the market in October 2023. Take a peek for an idea of the different bay views. (Montclair, in the Oakland hills, is known for its beautiful redwoods, oaks and other trees…it's important to see how these trees impact a house's view and your fire insurance options. These are the things we look at when touring houses for sale.)

Get advice on the best bay view neighborhood for you from your East Bay agent Susie
Call / text 510-269-7051 or email here: