What makes a place a happy place to live?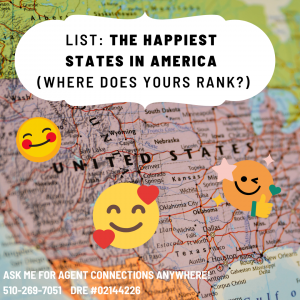 WalletHub analyzed the factors that are known to contribute to happiness and ranked the 50 states based on economic, emotional, physical and social health data from people living across the United States.
Their happiest states to live in 2021 revealed some interesting data. Especially when you compare this list to other lists, such as the fastest growing states and best places to start a business or retire.
Interestingly, the data on fastest growing states from the 2020 U.S. census doesn't necessarily align with happiness. In fact only 3 of the fastest growing states appear on the Top 10 Happiest States lists.
Is that what makes those states happy—the fact that the population is stable or maybe shrinking?
The top 10 happiest states:
Utah – also the #1 fastest growing state in the 2020 U.S. census
Minnesota
Hawaii
California – ask why I think California ranks so high on the happy list despite our high taxes and overpopulation! And discover the city that was ranked the best place for families to live in the United States.
North Dakota -also the #4 fastest growing state
South Dakota
Idaho – the #2 fastest growing state, Idaho is also attracting lots of investors
Maryland
New Jersey
Massachusetts
Want to move to a new state or new country like Portugal?
Ask me for connections to great real estate agents in whatever place will make you happy!