This article by Susie Wyshak first appeared in the May 2023 Rockridge News and is edited for online reading. Enjoy! Get in touch to chat about your real estate goals over a pastry at Starter Bakery and learn all about living in Rockridge and the East Bay.
The Rockridge community took Brian Wood by surprise. He opened Starter Bakery's first retail location at 5804 College Avenue in March, thinking most customers would have tasted his famous buttery, flaky Kouign Amann pastry at the Temescal farmers market, or at a cafe, or maybe even at Oakland's Pop Up General Store where he first debuted the now-legendary pastry in 2010.
"So many locals had never heard of us before." Wood says. "Many of them are now regulars at the bakery. The neighborhood has been so welcoming."
Kouign Amann fans may be intrigued to know the Cardamom Pistachio Twist and Chocolate Babka are the new customer favorites. Breads and pastries are baked throughout the day. Healthy options include yogurt parfaits and sandwiches to eat-in or take away. There are also some vegan items.
Starter chose small batch coffees from Oakland's RoastCo for its coffee bar.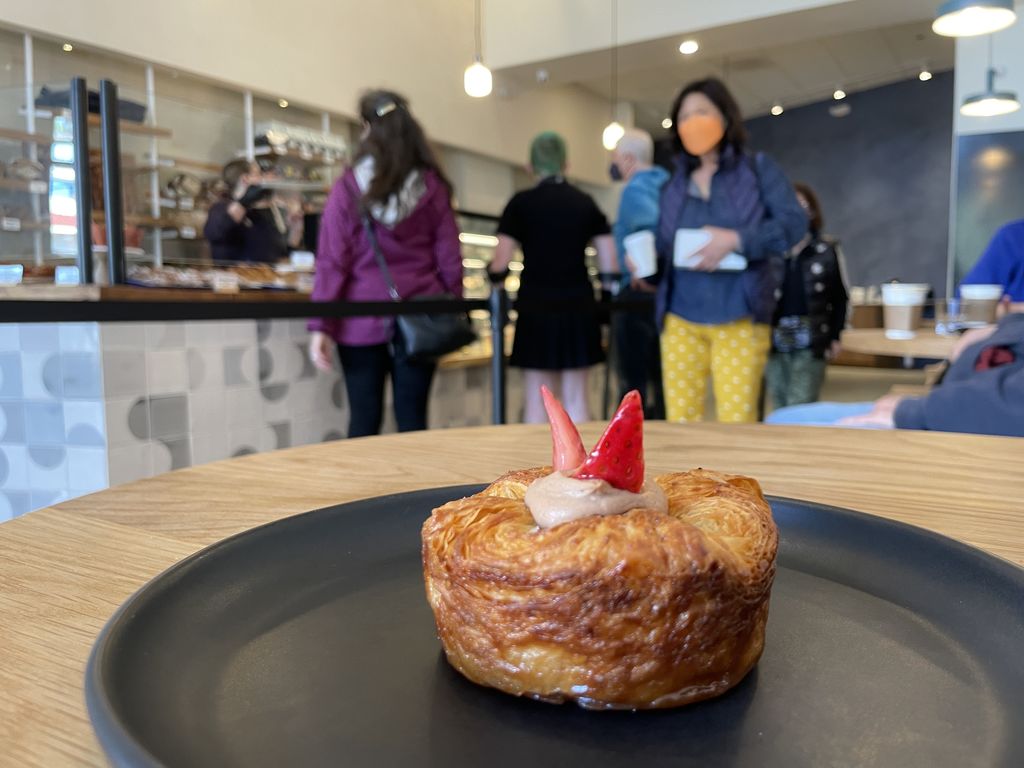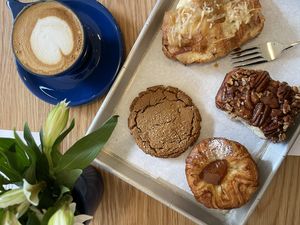 A Great Place on College Ave to Meet and Eat
The Rockridge Starter Bakery location has a vibe designed for conversation, coffee and connection. "We wanted to create a refined and special experience for our retail customers," says Wood. High ceilings allow air and light to penetrate deep into the space, balancing a cozy yet spacious feeling.
Hints of an industrial feel combine with a naturalistic environment incorporating locally crafted white oak surfaces, hand/painted tile, ceramics, glass and limewash paint.
The bakery perfectly represents what's called a "third space," a welcoming place other than the two places where many of us spend time: work and home.
A Life in Baking
Opening a brick-and-mortar bakery was not always in the plan for Wood, although it's a natural evolution for someone who cherishes community connections.
The Head Baker and CEO has been a restaurant pastry chef, a chocolate production manager, baking instructor, wholesale bakery product developer, author of Advanced Bread and Pastry, and an industry consultant before opening Starter Bakery in 2010. His wholesale bakery began in Emeryville and migrated to a large production facility on Gilman Street.
Interested locals are welcome to explore working at Starter Bakery. Wood says, "We have people who live in the neighborhood in the back-of-house who had no experience who want to learn and expand their horizons. We also have experienced employees, some who studied Hospitality at Laney College and other programs."
Full-time employees qualify for Kaiser's healthcare, largely funded by Starter Bakery.
What's Next for Starter Bakery?
Earlier hours and soon later, for those wanting to grab warm baguettes and desserts in the late afternoon.
Wood also anticipates offering the space for meetings and events; the newly painted wall makes a perfect projection screen.
Tip: Ask about the loyalty program when checking out.
Visit starterbakery.com to see the current menu and learn more about this popular Bay Area bakery.