Planning Your Next Move?
Selling a home in California is part art, part science, with a whole lot of strategy to achieve your ideal outcome.
Let's Plan an Ideal Home Sale Strategy
Whether you are leaving the Berkeley home you have lived in for decades or striving to sell a Rockridge house you bought recently to update and flip, you have a specific goals in mind — the sale price, the sale timeline, and the sale terms.
You probably also have concerns, many questions, and a need for connections.
Connecting those dots to clarify and help you reach your goals — and ONLY your goals — is what you can count on with Susie Wyshak, a REALTOR®, Cal Bear, expert marketer, and Rockridge home owner
Her team and vast network of Keller Williams agents will help you reach the right buyers on your timeline, downsize and upgrade, hands-on, and even can help you get clarity on what's next.
We'll begin by discussing your goals — and ideal outcomes, even if your selling timeframe is down the road a few months or even a few years.
Do you want a quick sale at top dollar?
Perhaps a 1031 Exchange is the plan for your investment property?
Do you need a flexible buyer who can give you a 1-month rent back to downsize and move?
Maybe you'd like to test the waters off-market, maybe selling for cash to the highest bidder.
Do you want to buy before selling? Perhaps you're plotting a move across the Bay — or maybe in another state or country — before selling your house so you only need to move once?
Whatever your desires and limitations, Susie is prepared to serve — or to connect you with someone who can best help you achieve those goals.
Susie is a Seniors Real Estate Specalist® (SRES) and is especially committed to helping elders and their family transition to the next, great step in life. (YES there are places to move to!)
Full-service selling experience
My proprietary Property Selling System was developed and has evolved over the past years to provide my clients with a consistent and proven method to:

Prepare your property for sale in the shortest period possible.

Price your property, based on current market conditions.

Get it sold quickly at the highest price possible.
CONCIERGE SELLING SERVICES
Sell Your Home For Cash, Without Listing It
How much could your house sell for to someone who is ready to buy, armed with cash?
Let's find out!
Keller Williams Realty created Keller Offers to help home owners with yet another option for selling in a simple, straightforward way.
With most iBuyers and Cash Offer programs, you're on your own to negotiate, and it can be hard to determine the actual net proceeds you'll earn from selling your house. Keller Offers improves on this model with a more seller-focused approach.
As a Keller Offers Certified Agent, I am happy to explain how the cash selling process works and empower you with knowledge about your options for achieving the highest sale price.
Let's explore the possibilities. There is no obligation to work with me at all or proceed with the Keller Offers.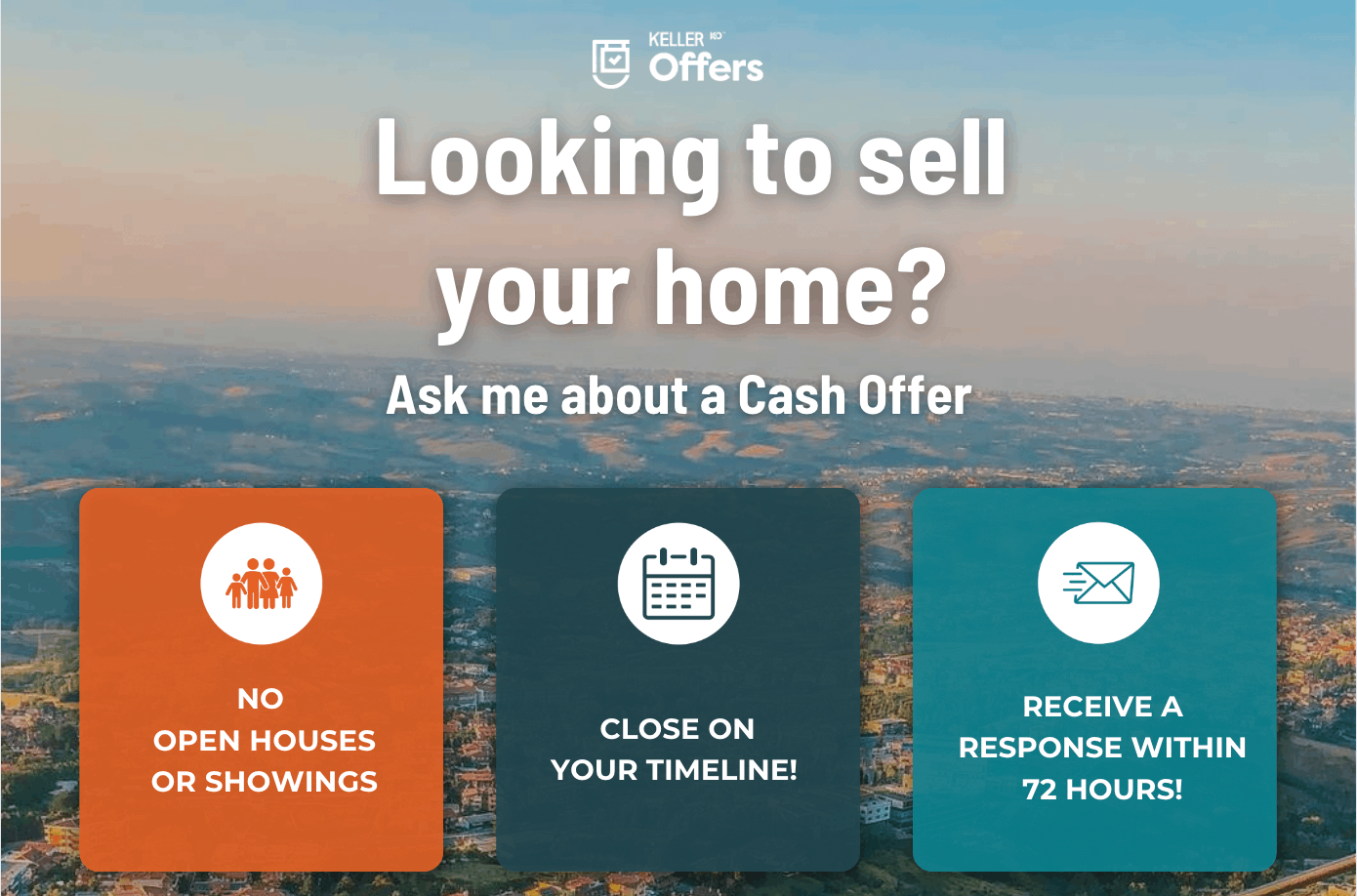 Update Your House — Without Upfront Expenses
Homes are rarely ready to put on the market as-is. Sometimes it's just a little TLC that can help future buyers visualize themselves in the home.
This might be fresh, neutral paint to replace outdated wallpaper or updated flooring that sets the house apart from the one down the street.
Perhaps you would like to fix items from the pre-listing home inspection (which is always a good idea!). Taking care of those items will make your property to buyers looking for that move-in ready gem.
READY TO SELL FREQUENTLY ASKED QUESTIONS
How much does it cost to update my house before selling?
Keller Williams' Ready To Sell program lets you sit back while we do it all!
Home sellers pay for the upgrades investment when the house sells. There are limitations on how qualifies and for how much.
Ask Susie to tell you all about it!
What types of updates will help my house sell for more?
It's remarkable what even a good window cleaning can do to make a brilliant impression on buyers (and their agents).
Depending on the condition of your property, our team might suggest updates in areas such as:
Flooring Replacement/Repair

Carpet Cleaning / Replacement

Deep-Cleaning
Cosmetic Renovations

Landscaping

Interior and Exterior Painting

Roofing Repairs

Kitchen Improvements from Countertops to Cabinets

Bathroom Improvements and Updates
The team can also help with staging. Staging has been proven to have a huge return on investment, as it helps buyers imagine what it will be like living in their new home.
What if I don't want to leave after my house is gorgeous and fixed up?
Believe me, you are not the first to ask this question. You might have been selling to move into a more modern place. Suddenly your old house is a sexy new home!
Good news: Of course you can stay in your house after it's updated. As you might have guessed, the fix ups won't be free. You'll just have to pay for them much as you would paid a contractor to work on your house.
NEXT STEPS: Get in touch with Susie for details on how the program works and other ways we work with you to maximize your home sale price.
With all of the beauty that the San Francisco East Bay area has to offer, it's hard to find the perfect place to call home. My area guides simplify that process by giving you unique market, lifestyle, and demographic insights into each area!