Your Local Berkeley and Rockridge
CONCIERGE REAL ESTATE AGENT
What's in your real estate world? My mission is to help bring your home and real estate goals to life in the San Francisco East Bay area and beyond. Your dream life and wealth goals are in reach.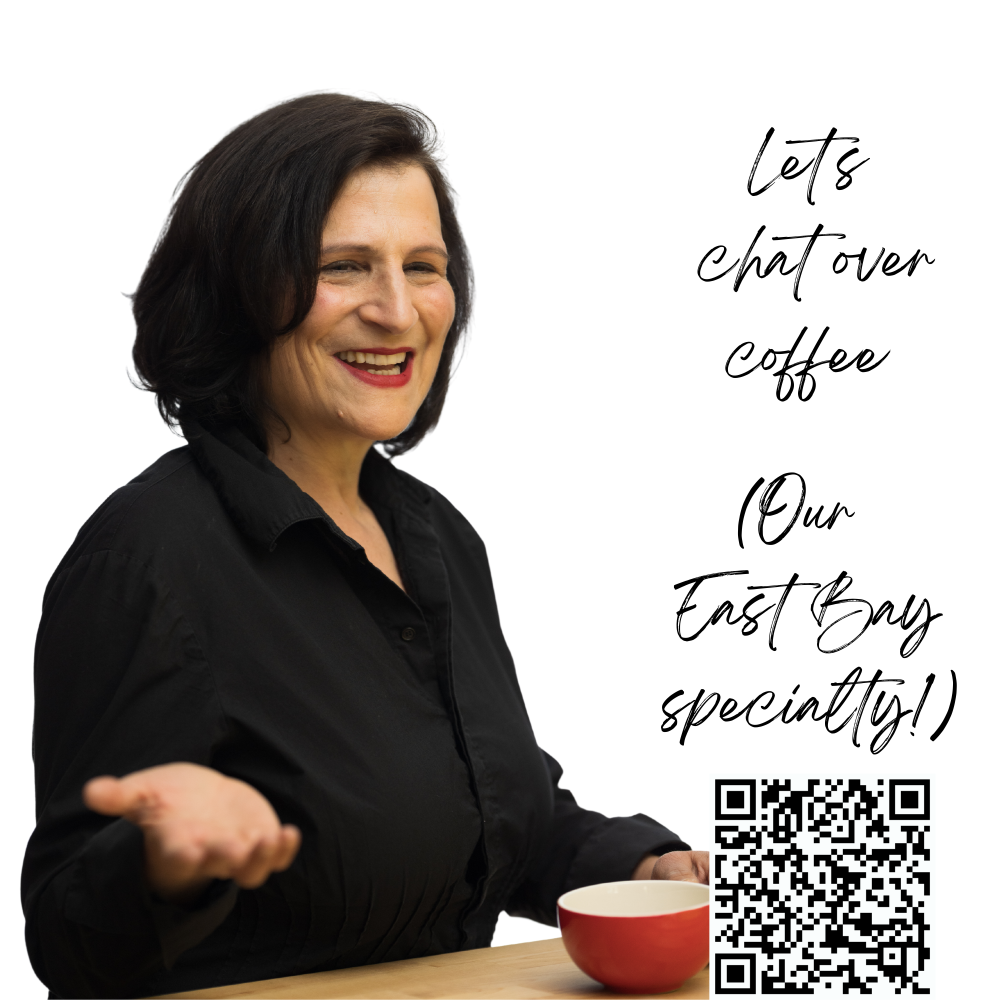 Need a Real Real Estate Agent?
Meet Susie Wyshak...
MY PROMISE: Focus on your goals & resourceful strategies to achieve them!
A fulfilling life starts with dreams and goals. Are you buying for your first time to get out of the renting cycle? Upgrading? Or selling for your last time to travel the world? Perhaps in between: Buying a place with rental income you can also use for home exchanges around the world? Woohoo!
Make your dreams real with a REALTOR® who is there as a partner in your journey. Who will stop at nothing to help you clarify what you want and make it happen.
Susie brings home buyers and sellers strategic viewpoints and hands-on experiences from her own journey buying light fixer homes (some not so light).
Count on Susie to work doggedly, tapping into a vast network of connections, communicating in a timely, honest way. If Susie can't help you, she will find someone who can—whether locally or across the globe. Her designation as a Seniors Real Estate Specialist (SRES®) will help with complex, multi-generation challenges including what to do with all that stuff.
Personalized Services
Your goals are my priority, and I specialize in getting you the best result. To me, you're more than a client - you're a partner, and we're in this together!

Find a Home
I'm here to guide you through every twist and turn of the buying process, so that you can sleep easy at night (in a home that you love ♥).

Sell a Home
I'm here to guide you through every twist and turn in the selling process, to make sure you get top-dollar without any of the headache.
"Susie helped me when I needed advice about how to get my rural house ready to sell. Her out-of-the-box thinking was especially useful when I was figuring out how I wanted to price the house, and how to reach buyers, as my property is a little unusual
…
Read More
. She understands what buyers find important in terms of fixing up a house. Overall she has been a great resource, as her knowledge extends beyond a typical agent's. Would highly recommend as a seller's or buyer's agent."
Read Less
"Susie shared so much insight on the areas we were looking at and we were moving from Arizona and she was super helpful! She also gave us amazing advice and showed us homes video video which was great!!"

"Susie is superb agent to work with. She is patient , persevere and responsive. It was a pleasure working with Susie!"
"Susie was a pleasure to work with. We always felt that she had our best interests at heart and was more focused on making sure we were comfortable and happy with our home purchase than she was about just making a sale. We often drew upon her knowle
…
Read More
dge, and she was always quick to answer our questions no matter how obscure they may have been. If she didn't know the answer to our question outright, she was quick to research and get us the information, so we felt she was available to us at any time. She was very understanding and accommodating of our busy work and travel schedules and was happy to meet us at odd hours to view prospective houses. We couldn't have asked for a more professional and helpful realtor to have worked with and would highly recommend Susie to anyone."
Read Less
"Before Susie was a realtor we strolled through the neighborhoods, searching out houses that she had researched. She knew which architect, which design, which era. She would stop and talk with contractors and workers doing remodeling. She was, and
…
Read More
is, incredibly interested in the design, construction, and commerce of real estate in the East Bay, a passion that has carried her into the work of being a realtor--and a successful one! I would trust her with any real estate related inquiry, acquisition, or sale. She has myriad connections in the community. She laughs and smiles though daily coffee on the avenue, meeting people, continuing to make connections. She is the grounded in the community and always makes sound recommendations."
Read Less

"We recently bought in East Bay with Susie. It was a ~2 year journey but we made it, all thanks to Susie. Susie is incredibly patient, knowledgeable and hard working. Shes a master of her craft! In this 2 year journey, never once did she push us to re
…
Read More
consider our price range, and simply worked with our goals. She even went above and beyond with making videos tours of some properties which we couldn't visit due to the commute. She know so much about East Bay, and what she doesn't know, she's not afraid to find out, even if that required knocking on doors.She was always on time, in fact ready to view before us. It is very very rare to find someone like her in the real estate market, someone who is not pushy to up your price bracket, or close on just any property. She feels like a true partner who heard our goals and limitations and worked with us to find a home. We will be recommending her to all our friends."
Read Less

"Susie is kind, honest, warm, direct, savvy, plugged-in, sharp -- all the things you'd want in a real estate agent. Truly lovely to work with. I'd absolutely recommend her to anyone."

"If you want an agent that will work for you, super responsive, and know the East bay market very well then Susie is the right person for the job. The market is super competitive and I'm glad that I had someone like Susie on my side. It was her due d
…
Read More
iligence and guidance that landed me my first home."
Read Less

"Susie's exceptional service deserves the highest praise!Over 525 days of house hunting across the Bay Area, her unique blend of quirkiness, patience, and professionalism transformed a potentially stressful process into an enjoyable journey. She never
…
Read More
rushed us, always listened to our needs, and provided expert advice. Her humor and personal touch made the experience memorable. She was impressively knowledgeable, well-prepared, and meticulous in handling every aspect of our real estate transaction.To anyone seeking a patient and exceptional realtor who turns the house-hunting adventure into a delightful experience, we absolutely recommend Susie. Thanks to her unwavering dedication, we found our dream home."
Read Less
"(Negotiation Skills Rating N/A because I had not been ready to make any offers on homes. We were in the looking stage only). Susie is such a kind and friendly and knowledgeable agent! She showed up with organized papers, emailed me helpful informatio
…
Read More
n about mortgage rates and estimate calculators, and her suggested list of other homes to check out were spot-on to my taste. She's very organized and has great follow through, which is so great given how time-sensitive responses are in the SF Bay Area market. Her communication is clear and detailed. She's also a great teacher if you're new to home buying and all the steps involved. She explained things patiently and in detail and made sure all my questions were answered. She also finds such beautiful homes!!!"
Read Less
"Susie is the best!! She was thorough and professional and great to work with. She kept us apprised about available appointments and always let us know as soon as a new one came on the market. She was honest and forthright- no games. In addition to th
…
Read More
is she was always available to answer our questions, is absolutely wonderful to work with. It's like having a friend on the "inside" that is working for you. She really care about her clients. Made buying a house such a breeze!! We are new to home buying, Susie is a combinational of professional and personal! She never made me feel uncomfortable and helped me every step of the way! I would 100 % recommend Susie to anyone looking to do any Real Estate transaction."
Read Less

"If you're looking for a real estate agent who is knowledgeable, professional, and approachable, look no further than Susie Wyshak! My partner, Jacob, and I had the pleasure of working with Susie to purchase our first home in Alameda, CA, and we could
…
Read More
n't be happier with the experience.Susie made the entire process stress-free and enjoyable. She was always available to answer our endless questions (seriously, we had a lot of questions), and she was proactive in keeping us informed every step of the way. For first time homebuyers, this was exactly what we were looking for.But here's the best part: Susie is not just an expert in real estate, she's also a master of gift-giving. Not only did she help us find the perfect home, but she also gave us lovely housewarming gifts. The key lime tree and some Tiki Glasses totally match our new backyard's tropical motif! Who does that?! Susie, that's who.We can't recommend Susie enough. If you want an agent who is not only great at her job but also fun to be around, Susie is your gal. Thank you, Susie, for helping us find our dream home and for being an all-around awesome human!"
Read Less
"Where do I get started, first me and my husband highly recommend working with Susie. She is insightful, energetic, creative, a listener, adaptable, openminded, and a great real estate partner. We have worked with her in purchasing and selling and she
…
Read More
is always willing to talk and help us strategize. She embraces new ideas and technology and really wants to help you achieve your goals in purchasing and selling. She goes above and beyond and we are so grateful to have worked with Susie!"
Read Less

"Bay Area real estate is not for the faint of heart. Despite living in San Francisco for 7 years, the East Bay was still terra incognita when my family started our house search. We were equally clueless about the entire home-buying process. Factor in
…
Read More
the ongoing COVID pandemic and an absolutely wild real estate market... as you can imagine, we were a little daunted. But we had a secret weapon: Susie Wyshak, realtor extraordinaire. There's no way we could have navigated the whirlwind without her!Susie's insight and energy were invaluable as we searched for our first home. She was incredibly responsive to our texts and emails, and never made us feel like any of our questions had obvious answers (even if they did). Her wealth of knowledge about every neighborhood more than made up for our lack thereof--name any major street anywhere between Berkeley and Walnut Creek and she'll recommend a favorite cafe, historic market, or other point of interest. Susie also simplifies the "six degrees of separation" to two at most--she seems to know everyone!Susie's expertise helped us find our our new home, which we're excited to move into this spring. If you're looking to buy a house anytime soon, do yourself a favor and call Susie. You'll be so, so glad to have her on your side."
Read Less
Popular East Bay Neighborhoods
Use local guides to explore market trends, new listings, schools, and top businesses within the areas that interest you. Susie loves to offer buyers personalized guidance! What's the perfect area for your lifestyle goals?
Real Estate and Real Living
Get insights and tips about Bay Area real estate, financial freedom through rental income, local East Bay living tips (especially about food!). And even ideas for retiring abroad.